Digitime One-stop B2B OTA Solution
Digitime FOTA service delivers new system functions in secure, timely and convenient manner, improving product delivery speed, reducing software after-sales service cost, and enhancing user experience. Digitime serves a total of more than 400 customers, including chip manufacturers, design houses, integrators, and mobile phone brands.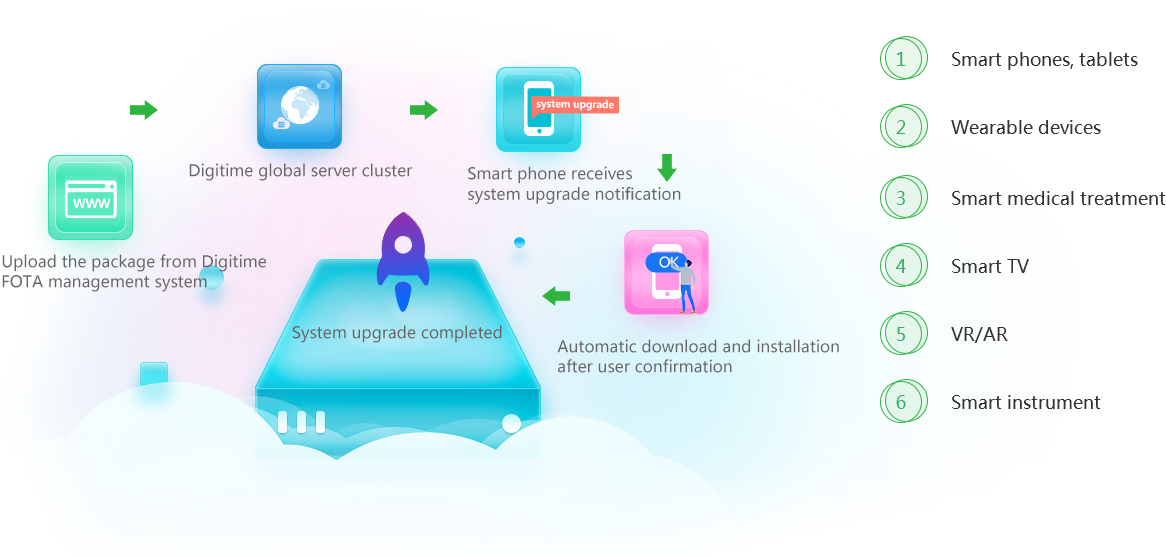 Secure & Reliable

Distributed cloud platform
Automatic recovery at failure

Support various Android
devices
Smart phone, tablet, wearable
device,household appliance etc.

Support all mainstream chip
platforms and operating systems
Qualcomm/MTK/Intel/
Spreadtrum etc.

Support upgrade of all partitions
Uboot/Modem/BOOT/
System/UESERDATA

Global server deployment
Amazon/Alibaba
cloud CDN

Million-level data
Million-level data
connection

Flexible upgrade strategy
Upgrade based on countries, regions,
version, models, IMEI etc.

Visualized interface
User data statistics
and query

COPYRIGHT © 2013-2015 Shenzhen Digitime Technology ALL RIGHTS RESERVED. 深圳市数联时代科技有限公司 版权所有 粤ICP备14081836号